about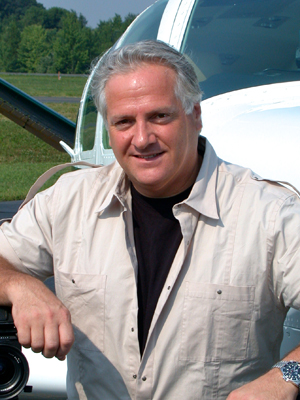 Charles Tack has lived his life exploring two passions, flying and photography. His corporate aircraft photography has been seen the world over.
His aviation career was born when he was a high school student in South Florida. It was there while working as a line service supervisor that Charles learned to fly, and within a few years was flying as a pilot-in-command on various multi-engine and turbo prop aircraft. His camera was always in his flight bag, and because of his unique access to corporate aviation, his photographs were soon being published.
In the 1980's, Charles worked as a charter captain and became a professional sales representative for Page Beechcraft, a Beech Aircraft distributor in the Northeast. In addition to selling aircraft, he attended all the factory King Air training programs and helped train Page's new customers. By creating photographic documentation of the entire sales process, he provided a unique perspective that allowed the company to promote its own material, which helped to enhance sales. This led Charles to fly solo into the highly specialized field of executive aircraft marketing.
Charles became the lead business jet photographer in the United States for British Aerospace in the early 1990's, producing air-to-air imagery for the manufacturing publications of the Jetstream, Hawker, and the BAe 146 aircraft. During that time, he supported the efforts of many of the leading aircraft brokers, fixed-base operators, avionics manufacturers, completion facilities, and aircraft management companies. Charles has traveled the world and has photographed more than 1,500 airline transport category and corporate aircraft from the newest VLJ's to the ACJ 320 and Boeing BBJ's. His vast knowledge of the aviation business and his experience working closely with key specialists within the industry has helped him to become one of the most sought-after aviation photographers in the world today.
Working with the latest milieu of digital imaging techniques including 1080 high definition video, Charles can represent each aircraft to its advantage, working seamlessly with ground and flight crews and executives alike.
When not photographing aircraft, Charles enjoys cycling and SCUBA diving, is retired as a competitive team skydiver, and has held several skydiving records. Most of all, he prefers to be in the company of family and friends.
To find out how Charles can best capture your company's product, please call  703-620-4900 or contact him.